How to Customize Output Profile and Save Customized Profile?
AVS4Mac M4V Converter Plus is a multifunctional media converter to remove DRM protection from iTunes purchases or rentals and convert M4V to commonly used non-protected formats including MP4, AVI, WMV, MOV, MPG, etc. As an all-in-one DRM removal tool, AVS4Mac M4V Converter Plus allows users to customize output profiles and provides a lot of predefined output profiles like Samsung Galaxy Note, Samsung Galaxy S, Google Nexus, Amazon Kindle Fire, HTC Desire, Blackberry Series, Nokia Lumia, etc.
But AVS4Mac M4V Converter Plus may not list all the mobile devices on the market. And for some users, they want to create their own output profiles. So AVS4Mac M4V Converter Plus enables users to create user-defined output profiles and save the customized profiles in the profile list. Please follow this guide to customize output profile and save the customized profile.
Step 1. Add iTunes M4V Media Files
Click the Add Movies or Add Files button, then software will open the iTunes movies library by default and all available videos such as movies, TV shows or music videos you purchased or rented from iTunes will be listed. Select the files and then click "OK".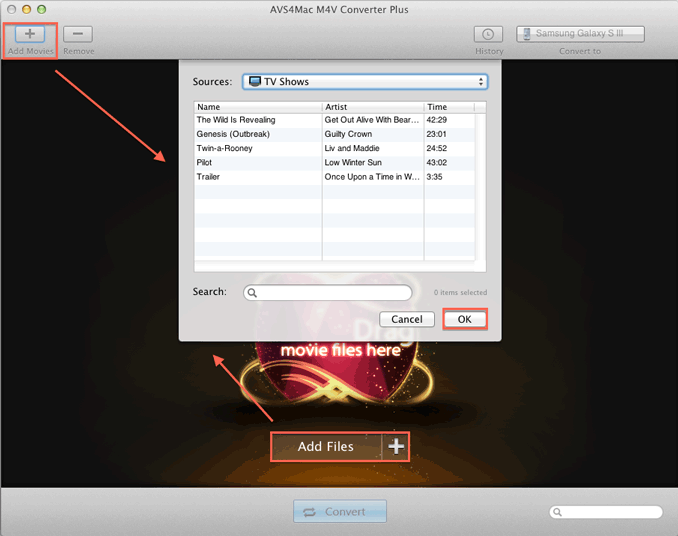 Step 2. Customize and Save Profile Settings
Click "Profile" drop down list, you can create user-defined output profiles for iTunes DRM M4V videos. For example, if you want to create an output format for your HTC One Max, please choose Customized MP4 Video as output format and then click Profile Setting button. In the popup box, please set Size as 1920 x 1080, Bitrate as 2000k. You can also customize other parameter settings.
Then please click Customize button and choose Save Current Profile in the drop down list. In the popup box, you can input title and description. If you have added customized profile before, you can also rename and delete the profile.
Step 3. Choose the Customized Profile
Click Profile drop down list, please choose the customized profile at the bottom of Customized Video option.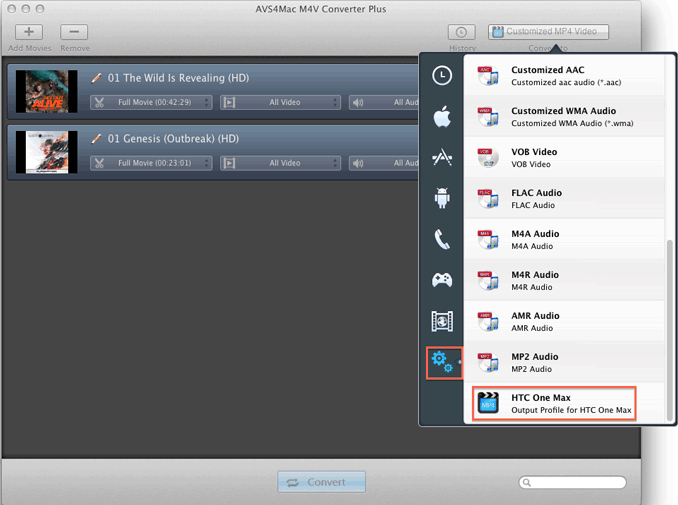 Step 4. Convert iTunes Videos to Customized Profile
Click "Convert" button, you'll open the converting box. Before the Status show converting progress, iTunes will be shown and hide itself in a flash, and please don't do anything with iTunes during converting, conversion may failed by occurring an error. You can also check "Open folder when conversion completed" or "Shut down your mac when conversion completed".