Apple iPhone 6 Plus vs Samsung Galaxy Note 4: Which One Will You Buy?
With Apple launching the latest iPhone 6, all major giants are now out with their flagship models. Apple has a 4.7-inch iPhone 6 and a 5.5-inch iPhone 6 Plus, akin to its arch rival Samsung's 5.1-inch Galaxy S5 and popular 5.7-inch Note 4. Both mobile juggernauts, Apple and Samsung, have been struggling to keep up with the growing pace they once enjoyed. While Apple is pinning high hopes on its larger iPhone 6, Samsung is hoping the Note 4 will continue to enjoy the attention and exclusive status. With both companies under immense pressure to prove themselves, yet again, here's a quick comparison of their phablets – iPhone 6 Plus vs Galaxy Note 4.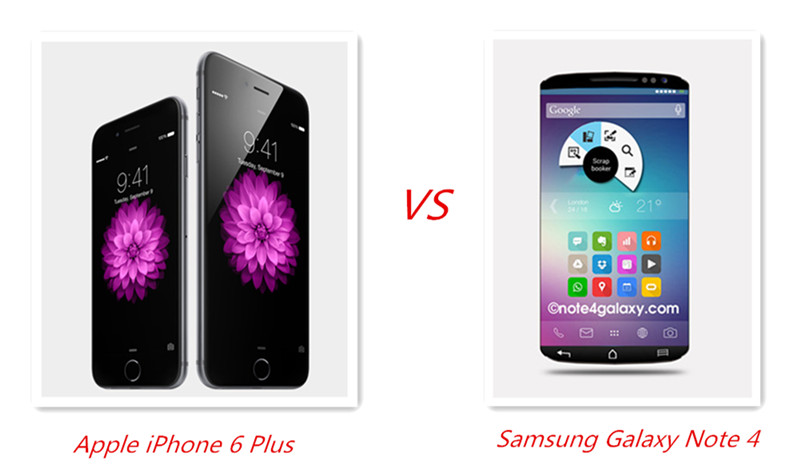 The 5.5-inch Apple iPhone 6 Plus (and to a lesser extent the 4.7-inch iPhone 6) smash the iPhone screen record, and in doing so, start competing toe-to-toe with today's top big-screen phones. And with the Galaxy Note 4 announced recently, we thought a comparison between the two new devices was apt. Here's how Apple's iPhone 6 Plus compares with Samsung Galaxy Note 4. That may help you to decide which one you would prefer to buy.
Product
Apple iPhone 6 Plus
Samsung Galaxy Note 4
Operating System
iOS 8
Android 4.4 with TouchWiz
Screen
5.5 inches
5.7 inches
Size
6.2 x 3.1 x 0.28 inches
6 x 3.1 x 0.34 inches
Weight
6.1 ounces (172 g)
6.2 ounces (176 g)
Resolution
1920 x 1080 pixels
2560 x 1440 pixels
Pixels Per Inch
401 ppi
515 ppi
CPU
A8 with M8 co-processor
2.7GHz Snapdragon 805 or
1.9GHz octa-core chipset
Storage
16GB, 64GB, 128GB
32GB
RAM
NA
3GB
Expandable storage
NA
Up to 64GB
Camera, Video
8-megapixel, 1080p HD video
16-megapixel, 4K video (3,840x2,160)
Front-Facing Camera
1.2-megapixel, 720p HD
3.7-megapixel; 1080p HD
Battery
Up to 12 hours (LTE); embedded
3,300mAh; removable
Color
Silver, Gold, Gray
White, Black, Gold, Pink
Extras
Apple Pay, Touch ID fingerprint scanner
Heart-rate monitor, fingerprint scanner, stylus
Metal versus plastic
Apple's iPhone continues to favor aluminum craftsmanship, while the Note 4 adds a metal frame.
Screen resolution
The iPhone 6 Plus has the same 5.5-inch display size as the LG G3, but is the only one of the three to use a 1080p resolution display instead of the more pixel-packed Quad HD resolution of 2,560 x 1,440 pixels.
As a result, the iPhone 6 Plus' pixel density is significantly lower than Note 4. When we hold the screens side-by-side we expect to see that difference on content that supports ultrarich detail, like 4K videos and photos.
Camera
The megapixel war rages on among most handset-makers, pushing up the number of pixels captured to 13 and 16-megapixels. Apple (and separately, HTC) takes a different tack, keeping megapixels steady at 8 for the rear camera and 1.2 for the front.
Read More:
If you buy the latest iPhone 6 Plus or Galaxy Note 4, you may want to download movies or TV shows from iTunes to your smartphone for viewing. However, the purchased or rented iTunes videos are protected by Apple's DRM technology and cannot be played on any Android phone or tablet, and the rented iTunes movies are only limited to play on your Apple iPhone 6 Plus in 48 hours.
To transfer iTunes to Apple iPhone 6 Plus or Galaxy Note 4, you may need to remove DRM from iTunes videos at first and then convert the unproteced videos to iPhone or Android supported formats like MP4. It is recommended for you to try AVS4Mac M4V Converter Plus, which is a powerful DRM remover and iTunes M4V converter, designed for both Windows and Mac users to remove DRM protection and convert iTunes purchased or rented videos to any Apple or Android devices.
With AVS4Mac M4V Converter Plus, you can enjoy the purchased media files from iTunes library in any type fo Apple/Android phone or tablet like Apple iPhone 6 Plus and Galaxy Note 4. For iTunes rentals, after removing DRM, you can keep iTunes rentals forever and backup iTunes rentals to iPhone 6 Plus or Samsung Galaxy Note 4, so that you can watch conveniently without wasting money on re-purchasing.