How to Remove DRM and Keep iTunes Rentals on iPad Mini 2?
All eyes are on Apple's event to unveil the next version of the iPad mini - the iPad Mini 2. The main highlight is the 2048x1536 resolution Retina display [know more] - a feature many had wanted on the original mini. This iPad mini 2, which comes in Space Gray and Silver, will run iOS 7, features a powerful A7 processor. It is four times faster at processing and eight times faster at graphics with the same 10 hour battery life as the previous iPad Mini.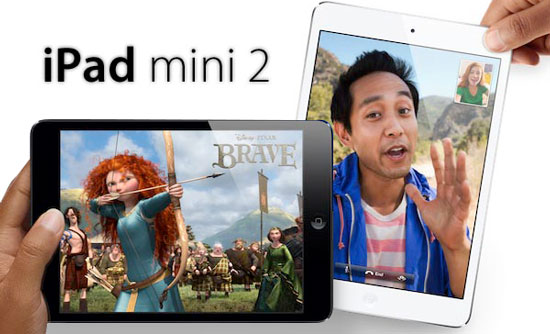 With the Retina display, iPad Mini 2 will be more suitable for movie viewing. You may prefer to rent movies from iTunes as they are cheaper than the purchases. But due to DRM protection, they are only available within 30 days. Once you start to play the movie, you have only 24 hours to watch it. If you can keep those rentals forever, it must be wonderful. Thanks to AVS4Mac iTunes to iPad Mini Converter, you can remove iTunes DRM protection and keep iTunes rentals on iPad Mini 2 without counting the expiry period.
Remove DRM and Keep iTunes Rentals on iPad Mini 2
With AVS4Mac iTunes to iPad Mini Converter, you can easily convert all your iTunes videos like movies, TV shows, music videos, etc. to iPad Mini 2. Then your iPad Mini 2 will become a super mobile theater without any network connection needed. AVS4Mac iTunes to iPad Mini Converter can converts iTunes M4V files with 100% original video quality. You can easily watch iTunes HD 1080P Movies, TV Shows with lossless quality on iPad Mini 2.
What's more, after removing DRM, iTunes videos will not be limited to Apple devices. You can also watch the them in any video player and Android or Windows devices such as Samsung Galaxy Series, Amazon Kindle Fire HDX, HTC One, Nokia Lumia 1020, Google Nexus, etc. By following the below 4 steps, you can enjoy the DRM-free movies/TV shows on iPad Mini 2 with ease.
• Click "Add" button to add iTunes purchases or rentals;
• Click "Profile Setting/Output format" button and choose "Same as Source MP4/MOV" to keep original quality;
• Click "Convert" button to remove the DRM protection and keep iTunes rentals on iPad Mini 2.
• Copy and transfer the DRM-free MP4/MOV videos to iPad Mini 2.
Know More about Retina Display
Retina Display is a brand name used by Apple for liquid crystal displays that, according to Apple, have a high enough pixel density that the human eye is unable to notice pixelation at a typical viewing distance. The term is used for several Apple products, including the iPhone, iPod Touch, and MacBook Pro.
For iPad series, Retina Display is only applied for New iPad, iPad 4, iPad Air and iPad Mini 2. When the original iPad mini was revealed last year, many tech journalists wondered why such an important, "resolutionary" feature would be left out. The iPad mini 2 needs a Retina display to compete with the Nexus 7 (2013 version) and the Kindle Fire HDX 7 which both have 1920×1200 resolution screens. An iPad mini with only 1024x768 resolution at 163 pixels per inch (PPI) will be outdated.
However, moving to this resolution makes a lot of sense. For starters, it's four times the resolution of the iPad Mini's (double the horizontal and double the vertical), so it's easy for apps to be scaled up or down. Secondly, it means that Apple only has two resolutions for its iPad range, making it easy for developers to work with.